This page has been updated to be current for the 2017 tax year. Click here to view local tax preparation help.
Page reviewed: 23 January 2018
Electronic Filing
If you meet the qualifications you may be eligible to file online for free. Visit the following links for more information: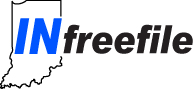 You can also use the Consumer Affairs website to find reviews of tax preparation software to help you file your taxes on your own.
Tax Forms
The library does not provide individual tax forms. You can obtain tax forms either in person, over the phone, or by printing them out online using the following chart:
---
Local Tax Preparation Help
Both AARP and CASI are offering free tax preparation help again in several different Southern Indiana locations this year.
AARP Tax Help
The AARP Foundation is offering their Tax-Aide service in Sellersburg, New Albany, and Corydon this year. The information for these locations is listed below. You can also use their website to find other Tax-Aide locations.
CASI Tax Help
If you or your family earned less than $54,000 last year, you may qualify for almost $6,300 in combined federal and Indiana Earned Income Tax Credit (EITC) when you file your tax return! Get your taxes prepared for free by IRS-certified volunteers at Community Action of Southern Indiana's Volunteer Income Tax Assistance (VITA) sites. Make sure you bring your Social Security Card and a photo ID.