Effective immediately, the south side of the library is temporarily closed due to renovation work. This includes the Indiana Room and the Gates Computer Lab, which means:
Click the image below to see a map of which areas are currently inaccessible.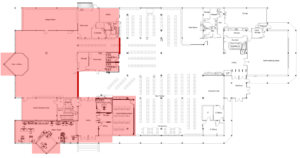 As the construction project moves into the next phase, some parts of the collection will become temporarily unavailable. We will update this page with more information about which specific collections are unavailable as we go.
We tentatively expect these closures to last one month, and we appreciate your patience as we go through this construction process!