The Jeffersonville Township Public Library has partnered with Unique Integrated Communications (UIC) to provide online assistance to library patrons. To accomplish this, UIC will have access to the library's website, catalog, and online resources. This Live Chat service will be available:
| | |
| --- | --- |
| Monday – Friday: | 8:00 a.m. — 11:00 p.m. |
| Saturday: | 9:00 a.m. — 9:00 p.m. |
| Sunday: | 12:00 noon — 9:00 p.m. |
To access this new feature, click on the chat button in the lower right corner of the screen to open a live chat window; this button is hidden when the service is unavailable. The button looks like this: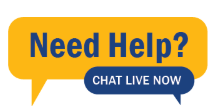 UIC will be able to answer questions relating to the library's policies, programs, materials, and online resources (such as Overdrive, Mango, Hoopla, etc.). In addition, UIC will be able to perform some basic circulation functions such as placing hold requests and renewing library materials.
UIC will be unable to perform most other functions such as editing patron records, accepting fines & fees, and processing inter-library loans. However, they will be able to direct online patrons to the appropriate department or staff member.
This new and innovative feature will provide real-time convenience to our patrons, increase usage of library materials and services, and provide insight into common questions and potential website updates.
We are excited to offer this new service and hope you will find it to be a beneficial tool!
Page reviewed: 1 April 2021