This page is current for the 2018 tax year. Click here to view local tax preparation help.
Page reviewed: 6 February 2019
Electronic Filing
If you meet the qualifications you may be eligible to file online for free. Visit the following links for more information: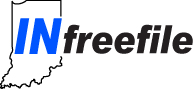 You can also use the Consumer Affairs website to find reviews of tax preparation software to help you file your taxes on your own.
Tax Forms
The library does not provide individual tax forms. You can obtain tax forms either in person, over the phone, or by printing them out online using the following table:
Federal tax forms
Indiana tax forms
Kentucky tax forms
Pick up in person
Romano Mazzoli Federal Building
600 Martin Luther King Jr. Place
Louisville, KY 40202
(502) 582–6436
Indiana DOR – Clarksville District Office
1200 Madison St. Suite E.
Clarksville, IN 47129
(812) 282–7729
Kentucky Revenue Cabinet
600 West Cedar, 2nd Floor
Louisville, KY 40202
(502) 595–4512
Monday – Friday,
8:30 a.m. – 4:30 p.m.
Monday – Friday,
8:00 a.m. – 4:30 p.m.
Monday – Friday,
8:00 a.m. – 5:00 p.m.
Order over the phone
1–800–829–3676
(317) 615–2608
(502) 564–3658
Print from a computer
Federal IRS Forms
Indiana Tax Forms
Kentucky Tax Forms
Where to mail returns
For Indiana Residents filing Individual federal tax returns (form 1040) and NOT submitting a payment
For Individual Indiana income tax returns (form IT-40)
For Individual Kentucky income tax returns (form 740)
Department of the Treasury
Internal Revenue Service
Fresno, CA 93888-0002
Indiana Department of Revenue
Re: Individual Income Tax
P.O. Box 40
Indianapolis, IN 46206-0040
Kentucky Department of Revenue
PO Box 856980
Louisville, KY 40285-6980
Click here to look up where to mail any other federal tax return based on the tax form number
For all other Indiana tax returns, click here
For all other Kentucky tax returns, click here
---
Local Tax Preparation Help
Both AARP and CASI are offering free tax preparation help again in several different Southern Indiana locations this year.
AARP Tax Help
The AARP Foundation is offering their Tax-Aide service in Sellersburg, New Albany, and Corydon this year. The information for these locations is listed below. You can also use their website to find other Tax-Aide locations.
American Legion Post 204 (Sellersburg)
American Legion Post 28 (New Albany)
Hillview Apartments (Corydon)
CASI Tax Help
If you or your family earned less than $54,000 last year, you may qualify for almost $6,300 in combined federal and Indiana Earned Income Tax Credit (EITC) when you file your tax return! Get your taxes prepared for free by IRS-certified volunteers at Community Action of Southern Indiana's Volunteer Income Tax Assistance (VITA) sites. Make sure you bring your Social Security Card and a photo ID.
Community Action of Southern Indiana (Jeffersonville)
St. John United Presbyterian Church (New Albany)
Harrison County Library – Palmyra Branch (Palmyra)