Welcome to the TeenStage webpage! We have a lot of great programs all year long; below are the regular monthly clubs and programs we do. Be sure to check out the online calendar to get all the details about these and other teen events!
JTPL Anime Club (Jeffersonville)
Interested in anime? Come meet other teens in Grades 6 – 12 who watch the shows you do! Some of us are really into anime, and some have just a few favorite series, and some have barely decided this stuff really is better than cartoons! ALL are welcome! Generally we'll watch an episode or two – the crowd in attendance decides which screener disc to try – and then discuss what else is going on: conventions, cosplay ideas and opportunities, favorite websites and channels for anime, and what we're watching and reading. We also play a lot of Anime Trivia and Anime Heroes and Villains… and there's snacks! Click here to see when the next Anime Club meeting will be!
TEEN Game Day (Clarksville & Jeffersonville)
Twice a month teens in Grades 6 – 12 are invited to play at the library: once in Jeffersonville and once in Clarksville. Both locations have Wii and OUYA, and Jeffersonville also has an Xbox with Kinnect. We even have great Rock Band equipment, so if you're feeling nostalgic and need a roomful of friends to play the classics, come on in! But don't expect to spend the whole two hours with a controller. We'll start every session with a tabletop game or two, ranging from popular favorites like Apples to Apples or Consensus to strange little addictions like Aye, Dark OverLord! or Curses. Never played some of those? Come give them a try and we guarantee you'll find a game you'll like. We'll bring pizza! Click here to see when the next TEEN Game Day will be!
Teen Writers' Club (Jeffersonville)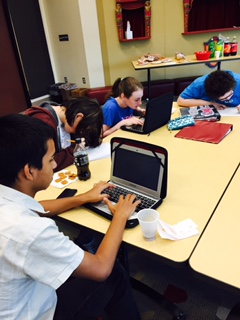 You are not the only teenager in town who likes to write! Once a month writers in Grades 6 – 12 meet at the library to talk about writing and perhaps share a bit of their work (always optional). Here are the friends who can help you with a plot point, who can help you get over a block, who can tell you the truth about the believability of a character or a bit of dialogue. Here are friends you can help with the same issues. In each session we generally write from a prompt for a few minutes to get the ink flowing, and the energy level rises from there. Special guests at past meetings include published authors, a screenwriter, and a club alumna who is now in college studying to become a literary agent. Light snacks provided. Click here to see when the next Teen Writers' Club meeting will be!
Teens Create Club (Clarksville & Jeffersonville)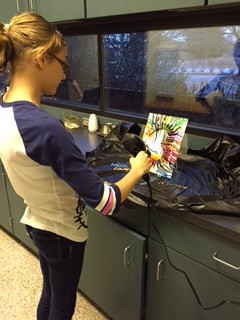 From techie projects to traditional crafts anything goes in Teens Create Club! This monthly event is for teens in grades 6 – 12 who enjoy making and crafting. Past projects have included DIY projects, learning new art techniques, stop motion animation and even photo editing. We are all beginners in this group, so no experience is necessary, just the desire to be creative! This program is held once a month at the Clarksville Branch and once a month at the main Jeffersonville Library. Click here to see when the next Teens Create Club meeting will be!
Dungeons & Dragons @ the Library (Jeffersonville)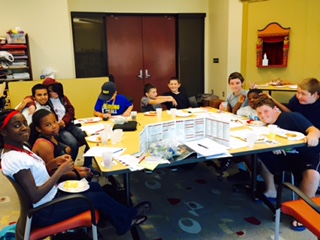 Who's ready for role-play? Before video games took over the gaming world, gamers sat down at a table with paper and dice and imagined characters and worlds and quests. Teens in Grades 6 – 12 who are ready for a change of pace – and who think they are ready for the challenge to their imaginations! – should come in to give Dungeons & Dragons a try. We're playing the latest version, 5th Edition, and generally at each session we see a mix of new and experienced players. We carefully keep our adventures episodic, so feel free to come for an afternoon to give it a try – you will fit right in! I'll bring sandwiches. Click here to see when the next Dungeons & Dragons program will be!
JTPL Youth Advisers (Jeffersonville)
The JTPL Youth Advisers are a by-invitation-only book club and volunteer group of teenagers in Grades 6 – 12 associated with the Youth Services Department at the Main library location. The Youth Advisers (YAs) meet to discuss books (and whatever else they want to talk about, just for fun) and to give advice concerning future book orders and any other teen-related decisions made by the department. The YAs are the first group of volunteers called upon to assist at special programs presented by the department, and the YAs are the talented puppeteers who perform JTPL's popular puppet shows. The Youth Services Department is always recruiting for YAs. If you're interested, please call or come in person to talk to Miss Laura about the next YA open meeting.